.

Michael Chabon

THE MICHAEL CHABON INTERVIEW
Conducted by Richard Lupoff
An exclusive ERBzine interview with
the screenwriter for the new Disney John Carter of Mars film
Two Famous ERB-Influenced Writers in Conversation
www.erbzine.com/mag30/3047.html


Dick Lupoff
...

The First Major Interview with Andrew Stanton - Director of
Disney's JOHN CARTER (of Mars)
'John Carter': Andrew Stanton
on Martian History, Comic-Con and … Monty Python?
LA Times ~ June 16, 2011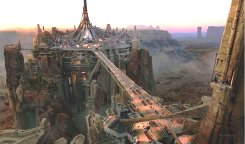 Disney Production Art
READ THE ENTIRE INTERVIEW HERE
...
©Disney Enterprises, Inc.

The ERBzine Evolution of John Carter in Film Series Continues:
See 65 images of the Conran Brothers production art, promo video and screenplay at:
ERBzine 3694 and ERBzine 3695